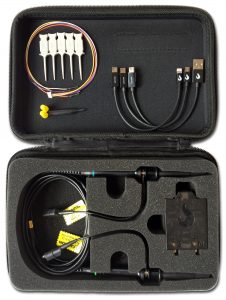 Oklahoma City, OK – September 18, 2017 – Today, Oscium is announcing
iMSO-204x
, a mixed signal oscilloscope with universal platform support (iOS, Android, PC, Mac). Oscium's oscilloscopes have traditionally worked with iOS only but with this new product we are adding Android, PC and Mac. Matt Lee, Co-Founder of Oscium, says, "The transition to cross platform delivers what the marketplace wants. And that is, a universal oscilloscope that works with the platform of your choice." Here are some highlights of the new product:
• Universal platform (iOS, Android, PC, Mac)
• 2 Analog + 4 Digital Channels
• 50 MSPS Sample Rate
• Perfectly portable and easy to use
Availability
iMSO software is free to download, regardless of platform. There are no software license fees or limit to the number of hosts that can have the software. Test drive the user experience today: iOS, Android, PC, Mac.
iMSO-204x hardware can be purchased for $399.97 from Oscium directly or from one of our our partners. Visit us at oscium.com to purchase or for more information.
About Oscium
Oscium delivers innovative test equipment accessories that connect to a smartphone or tablet transforming the host device into a portable troubleshooting tool for field technicians. Hardware can be purchased from Oscium and free software apps are downloaded on either Google Play or in the Apple App Store. Oscium has been delighting customers since 2010 and currently offers the following products for purchase: LogiScope (logic analyzer), iMSO-204x and iMSO-104 (handheld oscilloscopes), WiPry-Pro Combo (combination spectrum analyzer & dynamic power meter) and WiPry 5x [WiFi Spectrum Analyzer (2.4 & 5 GHz) with Cross Platform Support].
The Future of Test Equipment is Here.